Things I have done that you really should try not to - The Builders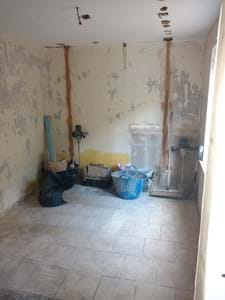 I'm currently renovating a house in the sunny Isle of Wight. In some ways it's a bit easier than other house renovations I've done before, as I'm not living in it full time whilst it's being done but in other ways it's a bit like steering a car from the back seat. Also as I have discovered the Isle of Wight may as well be the outer Hebrides when it comes to delivery, despite the fact that I can see Portsmouth from the house. Wistfully I press my nose against the window looking at the Mecca of all things building supplies across the water as I mourn another £120 delivery charge.
On the other hand, the builders are a delight and if you ever need a garage conversion in the Isle of Wight, Gullivers Building Services are your people. So very different to the last time I did a house renovation which was back in 2001, yes it's taken me 18 years to recover and I swore I'd never do another. And here I am in the triumph of hope over expectation.
The previous builders were revamping an earlier house in Kew and were Polish. They came highly recommended by my architect and indeed on the whole were polite, punctual and efficient – much like the current builders but with funnier accents. The foreman/owner turned up on the first day to introduce me to the men who would be working on the job and it became very obvious that they didn't speak more than two or three words of English. No matter as long as they could plaster.
The foreman, Henry, got the two men together and introduced me –
"This man is…"
"Jak masz na imię"
"Tymoteusz"
He turned to me…
"Eez name is Derick"
He turned to the next man and looked at him questioningly
"Przemyslaw"
He sighed.
"Ee eez John"
We all looked at each other. I knew very well they were not Derick and John. THEY knew very well that they weren't Derick and John. My Polish wasn't up to saying that I was sure I could cope with Polish names with a bit of practice. I can speak (in the British sense of being able to not starve to death in a country rather than actually knowing any grammar to speak of) Welsh and Russian, for goodness sake I can say Machynlleth and Здравствуйте, I'm pretty sure I can get my head around Polish. But my Polish was limited to ordering a beer so Derick and John stayed Derick and John.
Derick and John were very good, Henry however was a little eccentric. Part of the work was installing a downstairs toilet under the stairs and taking the upstairs bathroom and separate toilet and converting them into an ensuite shower room and main bathroom. So the house was moving from one toilet to three toilets.
I was living in the house throughout the renovation (having no children at that point) so the only caveat I told Henry was that there had to be one working toilet at all times. Silly me. I missed out some of the salient features of a "working toilet". The house being renovated was an unimproved 1920's house with no central heating or kitchen to speak of with the original scullery sink and fireplaces everywhere. The only "improvements" that had been made were in the 1970's when someone thought it would be a good idea to upgrade the bathroom to sugar pink (with matching sugar pink carpet and floor to ceiling pink floral tiles) and the windows and front door were upgraded to swanky novel new aluminium double glazing. So the front door was a glass and aluminium monstrosity with daisy patterned glass which was scheduled to be reinstated with an original door at the end of the works.
One day in the midst of the renovation, I came home, put my key in the door and looked up through the daisy patterned glass to see the one "working" toilet sitting at the top of the stairs with the walls missing. I took several steps back until I was standing on the pavement and looked up – yep, could still see the toilet from the street through the glass front door. I couldn't argue that the toilet did indeed function, it's just that now that they had removed the walls, it was something more like the public toilets in Rome which were a communal affair.
I rang my sister who lived locally…
"I think I might need to stay for a couple of days."
So Derick and John were good, Henry was a bit eccentric and then there was their plumber. Their plumber had trained as a ballet dancer I think. It was the only explanation for his total lack of plumbing skills. Poor Derick and John ran around shouting in Polish, putting buckets under leaks and going to fix his work, with me asking as the water poured through the new utility room ceiling (through the light fitting) –
"Is there a problem?"
"No problem, no problem"
I think Henry had taught them their little English and they believed that –
"Yes, huge effing problem of water pouring through electrical wiring" in Polish, translated as "no problem, no problem".
But as they fixed all the problems I let the plumber's incompetence slide.
Then when the new central heating was all installed, new radiators fitted and we were down to the snagging, I happened to move the sofa (I'd like to think I was vacuuming but that doesn't seem very likely) and there were four screws sticking about two inches through the old cinder block partition walls with a neat little pile of black cinder ash underneath. I walked back out into the hallway and lined up the screws visually with the new radiator in the hall.
I called Derick (or John). Said nothing and just pointed at the screws. He giggled a bit and called Henry.
Henry appeared about an hour later. I was expecting to hear him say –
"Sorry the plumber obviously used screws that were too long, we'll replace them and make good" It really wasn't the end of the world.
What he actually said was –
"I spoke to plumber, ee say it not like that when ee left" and looked at me accusingly.
It took me a minute to gather my thoughts away from the expletive laden sentence that initially came to mind. I'm am a business woman, I am a grown up, I've got this.
"So there are only two possible explanations. Either :
a) I sneaked down overnight and took the radiator off the wall after your men left, and replaced the appropriate length screws with ones that were much too long, having been out earlier to buy such screws, then put the radiator back or:
b) the screw fairy visited overnight and magic'd them longer."
Henry giggled.
"Sorry the plumber obviously used screws that were too long, we'll replace them and make good"
There are many learnings from that episode in my brief life as property developer:
1. Don't assume people can't cope with foreign names.
2. If you think there's a looming problem, tackle it and don't stick your head in the sand.
3. If you cock up, don't blame the fairies.